Mobile world is not the future, it's reality!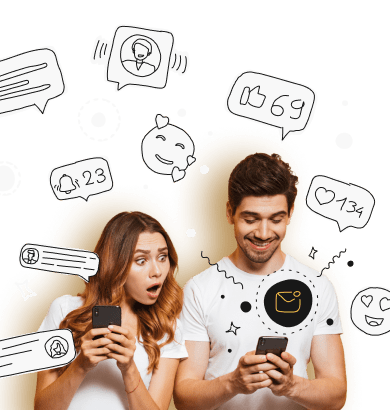 Advantages
of a mobile app
90% of our time with a smartphone is spent on using varried applications.*
01
Adapt the app to your needs
The app is build specifically for you, it is not an off-the-shelf product. Each solution is created with your business goals in mind, which in result fulfills your unique business needs.
02
Build loyalty and engagement
Be in constant contact with your Clients by sending them notifications. You can personalize your offer using native phone functions such as push notifications, GPS location and camera. Create a loyalty programme based on an app.
By creating a dedicated app for mobile devices, you may achieve a completely new UX & UI experience, which shortens the shopping path and makes the users' experience better.
1
Product discovery
We carefully listen to your needs. Then offer workshops, during which we collectively work on goals and needs. Next, we move from an idea to product's MVP and verify its assumptions with users.
2
Product design
We design applications, which always focus on users and objectives of our Clients. We create them with the use of best UI & UX practices.
3
Development
Our work is agile. Thus, we easily and quicky adapt to changing market environment. Our creative proces is based on verified methodologies that guarantee the highest quality.
4
Launch/production rollout/go live
When the product is ready, we share it with users.
5
Product growth and support
Implementation of the product is not the end. We develop it further with users' feedback in mind and by introducing next functionalities.
What
technologies
do we work with?
You don't have to worry about the choice of technology.
We will analyze your needs and recommend what choice will be most advantageous for you.
Our team has experience in building native multiplatform applications. Regardless of whether we build iOS, Android or multiplatform solutions, we always focus on the highestUX/UI efficiency and quality.
Create
your mobile app with our
team!
Every process starts with people. Thus, people are an important component while choosing a Partner. And our people create a fantastic team that will:
understand your business and help in determining objectives
diligently design your system (prototype and design)
ensure full support and further development of the solution
recommend the best solutions
turn your idea into a working application
(and last but not least) create a great atmosphere of cooperation